Jazz Festival Steyr - Up in the old Theatre
Do. 16.03. - So. 19.03.2023
Altes Theater, A-4400 Steyr
Kartenpreise / Vorverkauf | Anreise | Archiv
INFO: +43 (0)664 / 4158010, e-mail: sounddesign@aon.at
Wir danken auch heuer wieder unseren Sponsoren und Kooperationspartner:














Medienpartner:






Do. 16.03.2023, 19:30:
Paul Schuberth - Atanas Dinovski - Tomas Novak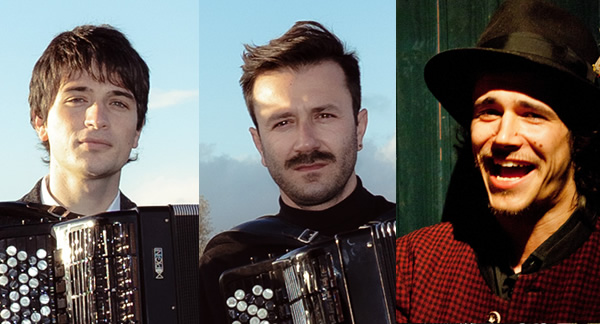 Do. 16.03.2023, 21:00:
CC JOP - Christoph Cech Jazz Orchestra Project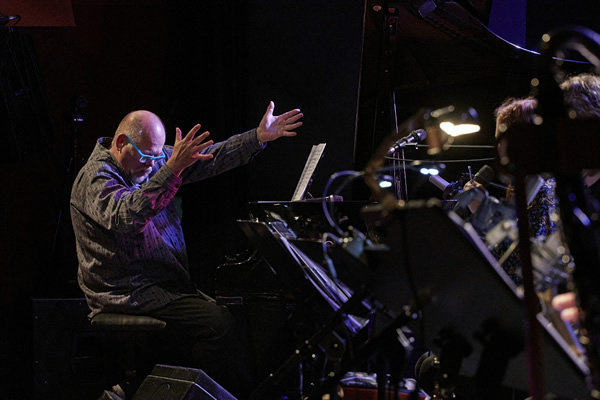 CD-Präsentation "Healthy Tree".
Für das Konzert beim internationalen Jazzfestival Saalfelden am 28.8.22 hat Christoph Cech einige seiner "Hits" zu einem schlüssigen Programm geschmiedet. Cech, welcher sich frei im großen Garten der stilistischen Möglichkeiten bedient und meint, alles, was ihn neugierig gemacht habe, hätte ihn beeinflusst, erzeugt musikalische Landschaften, welche von zarter Lyrik bis zu enormer Dichte alles aufweisen, immer aber, einerlei wie unterschiedlich an Herkunft und musikalischer Gestalt, Cech´s unverkennbare Handschrift tragen. Cech´s Interaktion mit seiner Band, in der sich Österreichs erste Jazzgarde die Hand reicht, erinnert an Familie (Sun Ra, Willem Breuker als Patenonkels ?), keinesfalls aber an die verstaubte Amtlichkeit musealer Bigbands. Folgerichtig ungewöhnlich ist CC JOP auch bei etwas reduzierter Bläsermenge angereichert mit Harfe, Streichern, Vocals, Synthesizer und sogar diatonischer Harmonika. Das großartige Saalfelden Programm kommt dieser Tage als Live CD bei Alessa Records heraus und wird erfreulicherweise weiterhin live performed.
Fr. 17.03.2023, 19:30:
Marta Klouckova & David Doruzka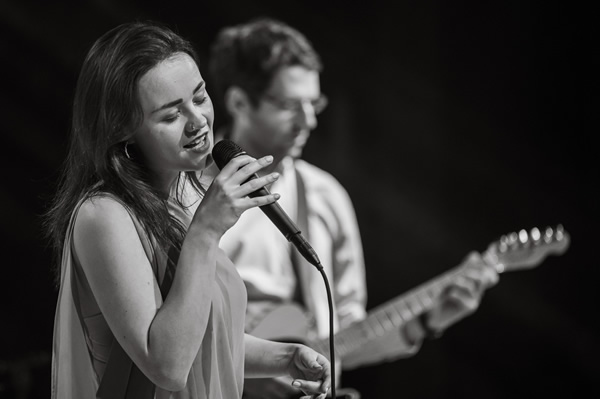 A singer and a guitarist, both composers and equally unmissable personalities of the Czech jazz scene, meet at a concert consisting of their original work and their favorite songs, mostly from the 60s. Multi-genre singer of unique qualities and velvety sound Marta Kloučková and the phenomenal jazz musician, multiple winner of the Czech Anděl music award David Dorůžka, bring their dynamic, delicate and suggestive music and emotionally nuanced lyrics. The duo works in a very spontaneous way, and its concerts are currently a laboratory where a new material for an album may crystallize. The unusual possibilities of how the listener can grasp their music can therefore be a dilemma enriching the impression of being present at the concerts of this creative duo. Marta and David reinterpret the songs in their own way, combined with the sensitive approach and warmth that defines them. Their music is dynamic, delicate and evocative without lacking lightness. The atmosphere of Marta`s emotional speech combined with David's invention and deep musicality promise an experience that will get under the listeners' skin.

Marta Kloučková
Multi-genre singer and songwriter Marta Kloučková is an unmissable part of the young Czech jazz scene. In 2018 she released an debut album Loving Season (Hevhetia), which was ranked among the best Czech jazz albums of that year. Marta Kloučková Quintet, with which Marta recorded the album, is made up of musicians belonging to the top Czech jazz players. Together they performed at Czech jazz and multi-genre festivals (e.g. Prague Spring, Czechoslovak Jazz Festival Přerov, Smetanova Litomyšl, Mladí Ladí Jazz, MHF Dobršská Brána) and abroad (e.g. Sunset-Sunside, Le Bal Blomet, Paris). In addition, Marta is a member of the vocal sextet Skety and collaborates with ensembles and musicians across genres (Concept Art Orchestra, D.Y.K. and others). She hosts a jazz music program on Czech national radio Vltava. She is a graduate of the Jaroslav Ježek jazz college and the University of Economics in Prague. In 2022, she released her second album, Stopa snu.

David Dorůžka
Guitarist and composer David Dorůžka is one of the most prominent Czech jazz musicians, often referred to as a leading personality of the scene. He studied guitar playing and composition at the prestigious American Berklee College of Music and at a master class for young musicians in Aspen, where in 2000 his lecturers included Herbie Hancock, Brian Blade, Joshua Redman and Christian McBride. Aga Zaryan, Lizz Wright, Jeff Ballard, Jorge Rossy, Django Bates, Albert Sanz, Rodney Green, Orrin Evans, Kenwood Dennard and many others are on the list of musicians and musicians he has collaborated with. He has performed all over the world as well as long-term stays in the metropolises of New York and Paris. He is the holder of several Czech Anděl music awards. In 2022, he released the album Andromeda`s mystery with the Dorůžka-Wylezol-Ballard trio.
Fr. 17.03.2023, 21:00:
Bernd Reiter's Dameronia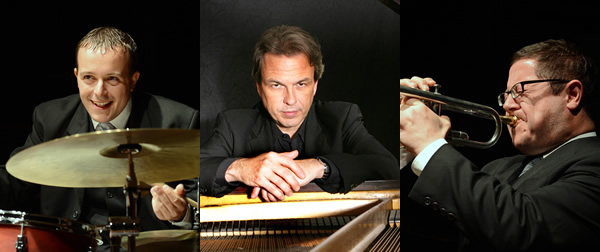 Dameronia's Legacy All-Stars - "New York meets Europe"
Tadley Ewing Peake "Tadd" Dameron war ein maßgeblicher Arrangeur und Komponist der Jazzgeschichte, er arbeitete für Count Basie, Artie Shaw, Jimmie Lunceford, Dizzy Gillespie, Billy Eckstine und Sarah Vaughan. Zudem leitete er eigene Gruppen mit Musikern wie John Coltrane und vor allem dem Schlagzeuger "Philly" Joe Jones, der sein bester Freund wurde. "Philly" Joe Jones war der Schlagzeuger des ersten "Great" Miles Davis Quintet und einer der einflussreichsten Jazz-Schlagzeuger aller Zeiten. In den 1980er Jahren gründete er das Ensemble "Dameronia", das sich dem klassischen und zeitlosen Werk von Dameron widmete.
Schlagzeuger Bernd Reiter studierte in Graz und New York und lebt nach mehreren Jahren in München nun in Paris. Er wurde mit mehreren Preisen, darunter dem Hans Koller Preis, dem österreichischen Jazzpreis, im Jahre 2006 ausgezeichnet und arbeitete bereits mit vielen internationalen Jazzgrößen. Es war sein langer Wunsch, sich intensiv der Musik von Tadd Dameron und "Philly" Joe Jones zu widmen, die Besetzung des von ihm zusammengestellten Oktetts ist eine echte "Allstar"-Band in der herausragende Jazzsolisten aus New York und Europa aufeinandertreffen. Jim Rotondi (Trompete) und David Hazeltine (Piano) gehören zu den herausragenden Musikern der New Yorker Jazzszene. Jim Rotondi arbeitete mit Künstlern wie Ray Charles, Lionel Hampton, dem Toshiko Akiyoshi Jazz Orchestra, Lou Donaldson, Curtis Fuller und George Coleman u. v. a. und ist nun auch als Professor für Jazztrompete an der Kunstuniversität Graz tätig. David Hazeltine begann seine professionelle Karriere mit 13 Jahren im Raum Chicago, und begleitete Legenden wie Sonny Stitt, Pepper Adams, Charles McPherson, Al Cohn, Lou Donaldson, Eddie Harris und Chet Bake. 1992 zog er nach New York und arbeitete in den nächsten Jahren mit Curtis Fuller, Junior Cook, Jon Hendricks, Louis Hayes, Peter Washington, Joe Locke, Jon Faddis, James Moody, Jim Snidero, John Swana und dem Hardbop-Sextett One for All u. v. m.
Patrick Bianco ist einer der führenden europäischen Lead-Altsaxophonisten, David Sauzay (Tenorsax) und Fabien Marcoz (Bass) gehören zur ersten Garde der Pariser Szene. Rik van den Bergh gilt als absoluter Spezialist auf dem Baritonsaxophon, Posaunist Johannes Herrlich unterrichtet in Wien und München und arbeitet seit vielen Jahren mit Jazzgiganten wie Kenny Wheeler, Joe Haider u. v. a.
Dieses Oktett bringt die klassischen Dameron-Arrangements zurück auf die Bühne und präsentiert mit Professionalität und viel Begeisterung energiegeladene und swingende Musik auf höchstem Niveau, einfach "Jazz at its Best"!!!
Sa. 18.03.2023, 19:30:
B/Y Organism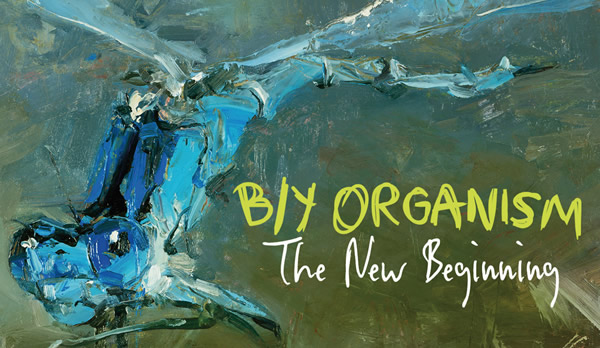 At 20 years old, Daniel Bulatkin is already one of the leading voices of young jazz in the Czech Republic. Despite his age he actively collaborates with world-famous players such as Ulf Wakenius, Justin Faulkner, Tineke Postma, Gary Husband and Gergo Borlai.
Kirill Yakovlev is a skilled crossover guitarist and composer well-known from his previous project CIRILIC, but also from many projects where he performs as sideman. This duo cooperates with highly in-demand European drummers such as Utsi Zimring or Petr Nohavica.
Balancing between piano and organ; guitar, duduk and balalaika; drums, exotic percussion and electronics; Organism seeks to create unforgettable music textures and powerful rhythms. Inspired by world music, americana, ambient, blues and jazz traditions, Organism pioneers a new synthesis of genre and sound in the organ trio paradigm.
Daniel Bulatkin is the youngest professional jazz musician on the Czech scene. He was born in 1999 in Prague. When he was 15 years old, he was awarded 3rd place in the prestigious solo piano competition 'Pianist of the Year' organized by the company PETROF. He was the youngest participant in the history of the competition. He defended his 3rd place in the following year of the competition. In 2018 he won the individual talent prize at the Cen-tral European Jazz Competition in Brno. Daniel is currently studying the jazz bachelor program at the Academy of Performing Arts in Prague. There, he's had the opportunity to perform, among others, alongside extraordinary saxophonist Zhenya Strigalev (RU).
Over the span of his short career he has collaborated, among others, with: Russ Spiegel (USA), Ben Tiberio (USA), Allison Wheeler (USA), Utsi Zimring (IL), Elon Turgeman (IL), Oleg Kireyev (RU), David Buchbinder (CAN), Ruggero Robin (IT), Rodrigo Parejo (ESP), Martin Valihora (SK), Milo Suchomel (SK), Miriam Bayle (SK), Yvonne Sanchez (CZ/PL), Martina Bárta (CZ/DE)…
His most valued collaboration, however, is with the Norwegian "Bass Viking" Per Mathisen. Together with him, Daniel tours with jazz&fusion superstars such as Ulf Wakenius (SWE; Oscar Peterson Quartet, Ray Brown trio, Herbie Hancock); Gary Husband (UK; John McLaughlin, Level 42, Allan Holdsworth) and Gergo Borlai (HU; Steve Vai, Trilok Gurtu, Al DiMeola). Daniel currently prepares to release two long-anticipated debut albums with his projects presenting alloriginal music. The first album is the product of extensive touring alongside British alto sax prodigy Tom Smith. The second album will be the debut of the B/Y Organism – a collaboration with ethno-fusion guitarist Kirill Yakovlev, featuring Daniel mostly as an organist.
Daniel's first original composition Lady of the Lake, arranged for big band by Andy Schofield, is now part of the repertoire of the prestigious Jazz Dock Orchestra. He is also currently a member of faculty at the International Conservatory in Prague.
Sa. 18.03.2023, 21:00:
q'arteto ulilangthaler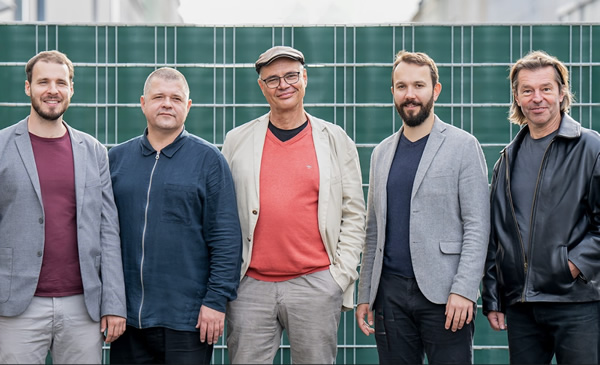 Gerhar Ornig - trumpet , Tobias Pustelnik - sax, Dusan Novakov - drums, Uli Langthaler - bass, Andi Steirer - percussion
For a long time, | have been playing with the idea to form a band with just two horns, bass and drums. The absence of a harmonic instrument poses an artistic challenge and offers new creative opportunities.
My favorite drummer, Dusan Novakov creates the foundation of our music and his finest solo can be heard on D's Delight. Andi Steirer, one of Austria's best-known percussionists was called in for the studio sessions. On tracks such as Flower Power he added beautiful colors and made a great contribution to the groove.
| am very pleased to have Gerhard Ornig and Tobias Pustelnik, two young horn players from Graz. The clear and focused sound of the trumpet and the warm and wide tone of the saxophone give a beautiful shine to the melodies. Listen to how they play the themes of Mesdames et Messieurs — as well as to their fantastic soloing on tunes like Jhelum or Ah Leu Cha.
Finally, | thank my daughter Paula Langthaler. When asked to contribute some music, she wrote One For J.S., which starts with a fugue and develops into a jazz tune, and Ama's Blues. She was also responsible for the arrangement of Ask Me Now, worked as a producer and collaborated in the sound mixing with Dusan Novakov.
So. 19.03.2023, 10:00 - Jazzbrunch im Hotel Mader:
Swantje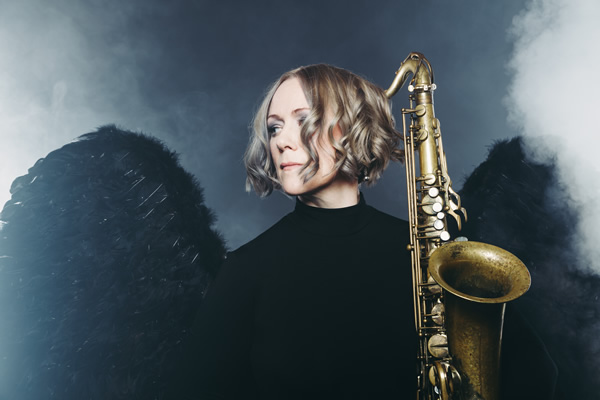 Swantje - sax, Karl Hodas - double bass
Nach dem großen Erfolg der Debut CD "NOW!" (u.a. dritter Platz in den Falter Jazzcharts 2020) hat sich das Trio um die Wiener Tenorsaxophonistin Swantje Lampert nun wieder zusammengefunden, um ein neues Album aufzunehmen. Phönix besteht aus 13 Eigenkompositionen Lamperts, die zum Großteil im Herbst 2021 entstanden sind.
So wie sich der Phönix aus der Asche emporhebt um sich in höchste Höhen zu schwingen, so entwickeln sich die Rhythmen des seit 2019 existierenden Trios von zutiefst erdigen und gebrochenen Grooves hin zu treibenden, perlenden und mitreissenden Beats. Gerade in der reduzierten Besetzung ohne Harmonieinstrument kommt dem Schlagzeug eine besondere Rolle zu, die Christian Eberle fulminant ausfüllt. Gemeinsam mit dem arrivierten Kontrabassisten Karol Hodas gelingt es Swantje Lampert, auch knifflige chord changes souverän auszuspielen und zu umspielen, sodass die Spannung durchwegs gehalten wird.

In "Lavapiés" wird man durch die laue Nacht eines niemals schlafenden, pulsierenden madrilenischen Viertels getrieben, in "Step Back" werden auf neue Weise allzubekannte Coltrane Changes verarbeitet, während man in der titelgebenden Nummer der neuen CD/LP, "Phönix" auf die Reise des mythischen Vogels mitgenommen wird. Viele Kompositionen ("Surrender", "Panta Rhei", "Phönix", "Der Vedantische Löwe" u.a.) spiegeln aber vor allem den spirituellen Weg der Komponistin wieder, den die Komponistin seit vielen Jahren beschreitet, und der ihr immer Weg und Ziel zugleich ist.
Festivalpreise
Dienstag:
VVK EUR 18,00 - AK EUR 20,00
Donnerstag:
VVK EUR 25,00 - AK EUR 28,00
Freitag:
VVK EUR 25,00 - AK EUR 28,00
Samstag:
VVK EUR 25,00 - AK EUR 28,00
Sonntag:
VVK EUR 10,00 - TK EUR 10,00
4-Tagespass (Do-So):
VVK EUR 60,00 - AK EUR 70,00
Ermäßigung für Schüler und Studenten: 50 %
Ermäßigungen für AK Mitglieder (pro Karte/Pass): EUR 2,00 im Vorverkauf / EUR 3,00 an der Abendkassa / EUR 10,00 auf den 4 Tagespass / EUR 2,00 für Jazzbrunch
Kartenvorverkauf: in allen OETICKET Stellen sowie unter +43 (0)664 / 4158010 bzw. sounddesign@aon.at
Lageplan Altes Theater, A-4400 Steyr
Handel Mazzetti Promenade 5, A-4400 Steyr


Größere Kartenansicht
Archiv, die vergangenen Jahre
Jazz Festival Steyr 2022
Jazz Festival Steyr 2020/21
Jazz Festival Steyr 2019
Jazz Festival Steyr 2018
Jazz Festival Steyr 2017
Jazz Festival Steyr 2016
Jazz Festival Steyr 2015
Jazz Festival Steyr 2014
Jazz Festival Steyr 2013
Jazz Festival Steyr 2012
Jazz Festival Steyr 2011
Jazz Festival Steyr 2010
Jazz Festival Steyr 2009
Jazz Festival Steyr 2008
Jazz Festival Steyr 2007