<< zurück zum aktuellen Jazz Festival
Jazz Festival Steyr - Up in the old Theatre
Do. 14.03.2019 - So. 17.03.2019
Altes Theater, A-4400 Steyr
Kartenpreise / Vorverkauf | Anreise | Archiv
INFO: +43 (0)664 / 4158010, e-mail: sounddesign@aon.at
Wir danken auch heuer wieder unseren Sponsoren und Kooperationspartner:














Medienpartner:






Marcus Stockhausen – Florian Weber
Do. 14.03.2019, 19:30 Uhr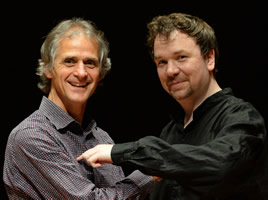 Marcus Stockhausen (D) - trompete
Florian Weber (D) - piano Spielfreude und meisterliches Können. Florian Weber (Piano), Echo- und WDR-Jazz-Preisträger, und Markus Stockhausen, der renommierte Trompeter und Komponist und ebenfalls Echo Jazz und WDR-Jazz-Preisträger, sind Meister ihres Fachs. Seit 2008 spielen sie zusammen und haben sich die Freude am Experimentieren stets bewahrt. Farbenreiche Kompositionen der beiden Musiker,inspirierte Improvisationen und intuitives Spiel fügen sich zu einem harmonischen Ganzen, den Instrumenten werden ungeahnte Klänge entlockt.

Beide Musiker sind sowohl im klassischen Fach wie auch im Jazz virtuos zuhause und stellen einen hohen Anspruch an ihre Tonkultur. Im Konzert lassen sie die Zuhörer teilhaben an ihrem musikalischen Dialog, immer auf der Suche nach dem 'Magischen Augenblick' auf der Bühne. 

Durch ihr intuitives Zusammenspiel bringen sie mit musikalischem Feingefühl innere Welten zum Klingen. Sie werfen sich die Themen wie Bälle zu, mitunter komplexe, virtuose Ton- oder Akkordfolgen, lebhaft und jazzig, dann wieder harmonisch-melodiös, ruhig und innerlich, das sanfte Flügelhorn untermalt von einfühlsamen Klängen des Klaviers.
NY Blue Note 5tet feat. Joe Magnarelli
Do. 14.03.2019, 21:00 Uhr

Joe Magnarelli (USA) - trumpet
Dmitry Baevsky (USA) - alto sax
Jeb Patton (USA) - piano
Fabien Marcoz (FRA) - double bass
Bernd Reiter (A) - drums Joe Magnarelli aus New York gehört seit drei Jahrzehnten zu den weltweit führenden Trompetern. Er schloss sein Studium am SUNY-Fredonia 1982 ab und zog 1986 nach New York. Zunächst arbeitete er von 1987-89 in der Lionel Hampton Bigband und dann von 1989-94 mit dem Organisten Brother Jack McDuff. 1991 gründete er das New York Hard Bop Quintet und leitete in Folge eigene Gruppen mit John Swana und Jerry Weldon. Zudem spielte er als Sideman mit Toshiko Akiyoshi, Laverne Butler, Harry Connick, Jr., der Buddy Rich Band, Maria Schneider, Grant Stewart, dem Vanguard Jazz Orchestra, Ray Barretto u. v. a. Mit Dmitry Baevsky und Jeb Patton verbindet ihn eine langjährige musikalische Partnerschaft, die Arrangements wurden über viele Jahre erarbeitet und auch aufgenommen.
Der aus St. Petersburg stammende Dmitry Baevsky hatte als Kind Klavierunterricht und wechselte als Jugendlicher zum Altsaxophon. Ab 1991 besuchte er das Mussorgski-Musikkolleg und studierte u. a. bei Gennadi Golstein. Während der 1990er Jahre spielte er in russischen Bigbands und trat auf zahlreichen Festivals des Landes auf. 1996 ging er im Alter von 19 Jahren nach New York, um an der berühmten New School zu studieren und ist seither ein fester Bestandteil der New Yorker Jazzszene. 2005 veröffentlichte er mit den Legenden Cedar Walton und Jimmy Cobb sein erstes Album als Leader. Außerdem arbeitete er u. a. mit Peter Washington, Willie Jones III, Harry Allen, Peter Bernstein, Junior Mance, Dennis Irwin und Jeremy Pelt, die auch auf weiteren seiner CDs zu hören sind.
Jeb Patton gehört zu den herausragenden New Yorker Pianisten der jüngeren Generation. Er studierte u. a. mit Sir Roland Hanna und Jimmy Heath und lebt seit 1996 in New York. Seitdem ist er festes Mitglied der "Heath Brothers" sowie des "Jimmy Heath Generations Quintet" und weltweit auf Jazzfestivals zu Gast. Weiters arbeitete er u. a. mit Etta Jones, Antonio Hart, Rufus Reid, Peter Washington, Lewis Nash, Steve Nelson, Jimmy Cobb, Jackie McLean, Frank Wess, James Moody, Jeremy Pelt und Steve Davis. In seinem persönlichen, swingenden Stil ist die gesamte Geschichte des Jazzpianos von Art Tatum über Phineas Newborn bis hin zu Cedar Walton zu hören.
Dieses internationale Quintett wird von zwei herausragenden, europäischen Begleitern vervollständigt: Fabien Marcoz ist die erste Wahl unter den Pariser Bassisten und zählt dank seiner großen Erfahrung mit Jazzlegenden wie Harold Mabern, Alain Jean-Marie u. v. m. zu den gefragtesten Sidemen der internationalen Szene. Sein perfektes Timing und sein tiefes Gespür für musikalische Abläufe geben jeder Band in der er mitwirkt eine besondere Unterstützung und rhythmische Grundlage. Der österreichische Schlagzeuger Bernd Reiter, Preisträger beim Hans Koller Preis, dem österreichischen Jazzpreis, im Jahre 2006 und mittlerweile in Paris lebend, spielte trotz seiner Jugend bereits mit vielen Größen des Jazz wie Mundell Lowe, Steve Grossman u. v. a.

Diese herausragende Besetzung mit Musikern aus den USA, Frankreich und Österreich ist eine echte Allstarauswahl und garantiert einen hochkarätigen Konzertabend unter dem Motto "Swinging Jazz at its Best"!
Joe Magnarelli (USA) - Trompete (www.joemagnarelli.com)
Dmitry Baevsky (USA) - Altsaxophon (www.dmitrybaevsky.com)
Jeb Patton (USA) - Klavier (www.jebpatton.com)
Fabien Marcoz (FRA) - Bass
Bernd Reiter (A) - Schlagzeug (www.berndreiter.at)

Pressestimmen:
"The real ear puller here is trumpeter Joe Magnarelli. The trumpeter has a pure tone and great articulation, and his rhythmic, lyrical lines recall hard-boppers Lee Morgan and Woody Shaw."
Downbeat, James Hale, Dezember 2005

"Joe Magnarelli is one of the top five over 30 post be-bop trumpet players today."
Downbeat Magazine, März 2000

"You can hear it loud and clear in his music: Dmitry Baevsky is here! From his very first recording with NEA Jazz Masters Cedar Walton and Jimmy Cobb the altoist has shown himself to be an important new voice on his instrument."
The New York City Jazz Record, Russ Musto, 2015

"Dmitry is an important new voice, distilling the jazz tradition to produce a thoughtful, probing here-and-now feel."
Jazzwax, Marc Myers
Dave Kikoski Trio (USA/RUS/A)
Fr. 15.03.2019, 19:30 Uhr

David Kikoski (USA) - piano
Boris Kozlov (RUS) - double bass
Klemens Marktl (A) - drums Dave Kikoski - Piano
Der Grammy Gewinner und Pianist David Kikoski wurde 1961 in Milltown, New Jersey, geboren. Dave war Teil einer Musikerfamilie und bekam bereits im Alter von sechs Jahren Klavierunterricht von seinem Vater. Als Teenager begann er mit Jazz- und Rockgruppen zu arbeiten und gewann die "New Jersey Allstate Jazz Competition". Nach der High School begann er am renommierten Berklee College für Musik in Boston zu studieren, wo er einen Bachelor in Klavier machte. Während seiner Zeit in Boston hatte er einen wiederkehrenden Auftritt mit einem Trio und traf Pat Matheny, der mit Daves Trio spielte. Später (1994) trafen sie sich wieder und spielten zusammen Roy Haynes CD "Te-Vou" ein, bei der auch Christian McBride und Donald Harrison beteiligt waren. 1984 entschloss sich der Pianist, sein Glück in New York zu versuchen, und es dauerte nicht lange, bis er sich etabliert hatte. Roy Haynes war der erste, der Kikoski eine Chance gab, die zu einer produktiven Zusammenarbeit führte, die bis zum heutigen Tag anhält. Daves erste professionelle Aufnahme 1986 war Randy Breckers "In the Idiom", wo er in der großartigen Gesellschaft von Joe Henderson, Ron Carter und Al Foster zu hören ist. Während der ersten Jahre in der New Yorker Szene knüpfte der Pianist Kontakte mit anderen Musikern, die zu einer Fülle von Aufnahmemöglichkeiten und einer Welttour mit Roy Haynes, Randy Brekcer, Bob Berg, Red Rodney und vielen anderen führte. David Kikoski kümmert sich weiterhin um den Ausbau seiner einzigartigen Stimme während es ein reiches Angebot an Möglichkeiten für ihn als Leader und Begleiter gibt. Er möchte vor allem seine Kompositionen hervorheben, und Möglichkeiten entwickeln, um mit seinen eigenen Bands zu performen und Filmmusik zu schreiben. Als bewegender Modernist, fügt Kikoski das Beste aus Jazz und Popmusik zusammen und holt aus jedem Song das Beste raus.
www.davekikoski.com

Boris Kozlov - Bass
Der in Russland geborene, zweifache Grammygewinner Boris Kozlov spielt sowohl akustischen als auch elektrischen Bass, ist Komponist und Arrangeur. In den lezten 20 Jahren ist er fixer Bestandteil der New Yorker und der internationalen Jazzszene. Momentan ist er Bassist, Arrangeur und Chefdirigent der Mingus Big Band, Mingus Dynasty and the Orchestra, und arbeitet auch an seinen eigenen Projekten. Er ist ebenfalls die erste Wahl als Bassist für so wichtige Jazzgrößen wie Michael Brecker, John Blake, Ray Barrettos "New World Spirit", Lew Tabackin, David Kikoski, Alex Sipiagin, Jean-Michel Pilc und viele andere.
www.borisbass.com

Klemens Marktl - Drums
Drummer, Bandleader, Komponist und Arrangeur Klemens Marktl wurde 1976 in Österreich geboren. Nach seiner frühen Ausbildung am klassischen Klavier entdeckte Marktl seine Leidenschaft fürs Schlagzeug. Er studierte es in Österreich, Den Haag, Amsterdam und New York mit Carl Allen, Ralph Peterson, Greg Hutchinson, Ari Hoenig, John Riley, ... und anderen. 1997 – 2003 lebte Klemens in den Niederlanden und arbeitete professionell als Schlagzeuger und Bandleader der internationalen Jazz-Szene. Im Jänner 2003 nahm er sein erste Debut-CD "THE CHALLENG" auf. Er tourte und machte Aufnahmen mit Jazzgrößen wie George Garzone, Seamus Blake, Aaron Goldberg, Chris Cheek, Matt Penman, Johannes Weidenmueller, Barry Harris, Jesse van Ruller, Renato Chicco, Ferdinand Povel, Jasper Blom, Phillip Harper, Frans Elsen, Michael Erian, Primus Sitter, Erich Kleinschuster, Heinz von Hermann, Rick Margitza, John Swana, Rob Bargad, Kenny Werner, Herwig Gradischnig, Andy Middleton, Martin Reiter, Peter Madsen, Johannes Enders, Harry Sokal, Reinhard Micko, Oliver Kent, Christian Havel, Erwin Schmidt, Robert Bachner Big Band, Karin Bachner, Jure Pukl, Matthias Pichler, Milan Nicolic, Piotr Wojtasek, Marc Abrams, ... Im Jänner 2001 gewann Marktl den 1 Platz beim "Leid´schen Jazz Award" (NL). Nach 5 1/2 Jahren in Holland, zog er 2003 nach New York und lebte und performte dort für zwei Jahre. Er landete direkt in der New Yorker Jazz-Szene und arbeitete mit Künstlern wie Wes Anderson, Mark Rapp, Rob Bargad, Waldrin Riks, Anthony Wonsey, Vincent Herring, Toru Dodo, Rick Germanson, John Swana ... Während dieser Zeit formierte er auch sein eigenes Quartett mit Chris Cheek, Aaron Goldberg and Matt Penman, welches seine eigenen Komposititonen spielt. Marktl ging mit seiner neuen Band ins Studio und nahm seine erste FRESH SOUND NEW TALENT Veröffentlichung auf, genannt "OCEAN AVENUE".
www.klemensmarktl.com
Klaro! Karolina Strassmayer (A) & Drori Mondlak (USA)
Fr. 15.03.2019, 21:00 Uhr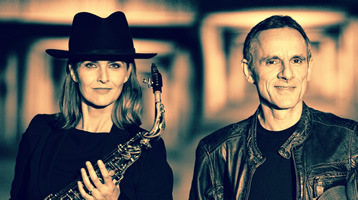 Karolina Strassmayer (A) - alto sax
Anil Bilgen (TR) - piano
Morten Ramsbol (DK) - double bass
Drori Mondlak (USA) - drums KLARO! verbindet die Lyrik der europäischen Klassik und Folklore mit der rhythmischen Kraft des amerikanischen Jazz und der harmonischen Raffinesse der zeitgenössischen Musik. Der musikalische Bogen spannt sich von kraftvoll, spritzigen Grooves zu poetischen Balladen und explosivem Swing. Egal in welchem Genre sich die Musiker von KLARO! bewegen, ihre Musik ist stets voller Passion, Neugier und Lebenslust.
Von den Lesern des amerikanischen Jazzmagazins Downbeat wurde die Ausnahmemusikerin Karolina Strassmayer mehrmals unter die weltweit fünf besten Altsaxophonisten gewählt. Sie erspielte sich eine ausgezeichnete Reputation in der New Yorker Jazzszene und ist seit 2004 die erste Frau in der mit mehreren Grammys ausgezeichneten WDR Big Band Köln. Sie spielte mit McCoy Tyner, Joe Zawinul, Joe Lovano, Chris Potter, John Scofield u. v. a.
Doug Ramsey writes "one of the most interesting alto saxophonists of her generation, Strassmayer has absorbed, internalized and personalized what John Coltrane gave to jazz and often evokes him purely on the power of her tone and inflection."
Drori Mondlak ist einer der herausragenden Jazz-Schlagzeuger und Bandleader. Seine eklektische Arbeit in mehr als zwanzig Jahren in New York haben Mondlak mit Jazzgrößen wie Frank Foster, Joe Williams, Chris Potter und Ernestine Anderson zusammengeführt. Mondlak ist auch in der europäischen Jazzszene angekommen und spielte mit Lee Konitz, Sonny Fortune, Barbara Dennerlein, David Friedman, Lynne Arriale und Nicolas Simion. "The precision, speed and reserved strength of Mondlak's drumming are reminiscent of Joe Morello in his early years with Dave Brubeck". Doug Ramsey
Anil Bilgen wird 1989 in Ankara, Türkei geboren. Er schloss sein Klassik Klavier Bachelorstudium an der Hacettepe Universität und sein Jazz Klavier Bachelorstudium an der Kunst Universität Graz ab. In 2011 gewann er den "Best Performance" Preis in JAmZZ Wettbewerb in Istanbul. Unter den Musikern mit denen er gespielt hat, sind Joe Lovano, Ed Neumeister, Karlheinz Miklin, und Heinrich von Kalnein.
Der dänische Bassist, Komponist und Universitätsprofessor Morten Ramsbøl (*1970) arbeitet seit über zwanzig Jahren mit den berühmtesten Musikern und Musikerinnen der internationalen Jazz Szene in Europa und darüber hinaus. Er ist seit 2004 Mitglied der "Aarhus Jazz Orchestra" und arbeitet auch mit eigenen Projekten und Bands. Gemeinsam präsentieren die vier unbändigen Klangmaler Strassmayers neue Kompositionen und Improvisationen, stets geprägt von lyrischer Schönheit, nahezu telepathischer Kommunikation und rhythmischem Drive.
www.klaromusic.com
Antonio Flinta 4tet (IT)
Sa. 16.03.2019, 19:30 Uhr

Antonio Flinta (IT) - piano
Luciano Orologi (IT) - sax
Roberto Bucci (IT) - double bass
Claudio Gioannini (IT) - drums The Antonio Flinta Trio and Quartet has toured jazz festivals, theatres and jazz clubs all over the world, from China to Guatemala, from Finland to Morocco, always performing its own music: original compositions and an intense interplay are the means to explore moods, colours, textures and space, through driving rhythmic grooves or intimate ballads, through mantra-like vamps or free form songs, always bearing in mind that music – universal language – must communicate.

Antonio FLINTA
Pianist, composer and educator born in Chile, studied in Madrid at the Taller de Musicos with Joshua Edelman, and attended masterclasses with Barry Harris, Bob Moses and Chuck Israels, among others. Soon after he won a scholarship to the Berklee College of Music in Boston, Mass., where he studied composition and arrangement, improvisation with Ed Tomassi and jazz piano with Ray Santisi. In Rome in 1993, after playing in various bands, he formed his own trio with Roberto Bucci on bass and Claudio Gioannini on drums, starting a musical relationship and a friendship that lasts for more than twenty years. Focusing on original compositions and interplay, the trio recorded four CDs: "The Meeting" (2000), "Tree and Figure" (2003), "La Edad De La Ira" (2005), and "Portraits and Songs" (2007), and toured both national and international jazz festivals. The song "Ninietta" included in the album "La Edad De La Ira" was a finalist in the 2006 USA Songwriting Competition. In 2008 the trio expanded its expressive possibilities becoming a quartet with the contribution of longtime friend tenor saxophonist Piercarlo Salvia. The quartet toured four continents, gained wide recognition and recorded two celebrated CDs "Tamed" (2009) and "Art is an Insurgent Poem" (2013). In 2015, with alto saxophonist Paolo Farinelli, the quartet toured internationally and new compositions led to the critically acclaimed CD: "La Noche Arrolladora" (2017). In 2018 a new quartet takes off with tenor sax Luciano Orologi, with the "La Noche Arrolladora" repertoire and new exciting compositions

Luciano OROLOGI
Tenor sax player, but also soprano sax and bass clarinet, composer and educator, studied clarinet at the S. Cecilia Conservatory in Rome and attended masterclasses focusing especially on musical improvisation. He plays different musical genres and as a session musician he has collaborated with many different bands. He has participated in national and international festivals (Spain, Russia, Germany, Belgium, Serbia, Austria, Czech Republic, Ecuador, Turkey) and has composed music for Theatre and Dance.

Roberto BUCCI
Bass player, studied at the Saint Louis Music School, Rome, at the Frosinone Conservatory and with M° Pani, bassist of Rai – Italian TV Broadcasting. He has worked with Giovanni Tommaso's Jazz Orchestra, collaborating with Paolo Fresu, Gianluigi Trovesi, Flavio Boltro. He is also the chief manager of the "Artena 3000" festival.

Claudio GIOANNINI
Drummer, began his musical training in Italy (Ettore Fioravanti, Fabrizio Sferra), and continued at the "Percussion Institute of Technology" (PIT), a branch of the Musicians' Institute in Hollywood USA, where he studied with such musicians as Steve Houghton, Ralph Humphrey and Joe Porcaro. He graduated with "Honours" and received a special award: the "Human Relations Award". He also directs the Staff Music School (Rome and Viterbo).

Discography:
In Trio: The Meeting (2000), Tree and Figure (2003-Splasc(h) Records), La Edad De La Ira (2005-Splasc(h) Records), Portraits and Songs (2007-Splasc(h) Records). The song Ninietta included in the album La Edad De La Ira was awarded finalist in the 2006 USA Songwriting Competition In Quartet: Tamed (2009-Splasc(h) Records), Art is an Insurgent Poem (2014-Splasc(h) Records), La Noche Arrolladora (2017)

Main Concerts and Festivals:
Sibiu Jazz Festival, Ploiesti Jazz Summit, Brasov Jazz Days (Romania) · Bucarest Europafest (Romania) · Sonvico in Jazz (Switzerland) · Ankara Jazz Festival (Turkey) · "China Tour" (Beijing, Tianjin) · Bansko Jazz Festival (Bulgaria) · Kaamos Jazz (Finland) · Smeltedigelen Jazz Festival (Norway) · XII Guatemala Jazz Festival · Nicaragua Jazz Festival · "Jazz in The Desert…a Maghreb Tour", XII Tanjazz Festival (Morocco, Algeria, Tunisia) · Jazz Jantar, Gdansk (Poland) · Stiwa Jazz Forum, Hagenberg (Austria) · Venezuela Tour (Barquisimeto Jazz Festival, El Hatillo Jazz Festival, Maracay, Maracaibo) · Jazzkerho -76 Club, (Finland) · International Music Fest "Kalevala Festival" Karelia (Russia) · JFC Club, Saint Petersburg (Russia) · XVI Almaty Jazz Festival, Jazz at Shymkent (Kazakhstan). ibiu Jazz
Gianfranco Menzella 5tet (IT)
Sa. 16.03.2019, 21:00 Uhr
Gianfranco Menzella (IT) - tenor sax
Michael Rosen (USA/IT) - sax
Bruno Montrone (IT) - piano
Francesco Puglisi (IT) - double bass
Adam Pache (AUS) - drums Die zweite Band des samstäglichen Italienschwerpunkts ist das 5tet von Gianfranco Menzella. Auf der Suche nach einem weiteren nicht alltäglichen italienischen Künstler, entdeckte ich, in Zusammenhang mit einem Saxophonisten, Bilder der Höhlenwohnungen von Matera, deren Geschichte bis in die 1960er Jahre herauf reichen und ich wusste, das ist es. Ich war damals unmittelbar nach den schweren Erdstößen im Jahre 1979 in Matera, die Stadt lag in Schutt und Asche, und ich erfuhr von den Höhlenwohnungen und deren künstlerische Verwendung und wanderte damals durch eine unglaubliche Szenerie von der ich sehr angetan war, und somit wusste ich, eine Band, ein Künstler, der mit Matera in Zusammenhand stand war genau das was ich suchte.

Born in Matera in 1978, Gianfranco Menzella gained the degree in saxophone in 2000 at the Conservatory "E.Duni" in Matera, with Maestro Vito Soranno , getting the highest marks with honors.In 2004 he also gained the degree in jazz music at the Conservatory "T.Schipa" in Lecce, with Maestro Luigi Bubbico. He has taken part in several national and international contests, getting nine first prizes and three second prizes.
He has played with:  Steve Grossman, Fabrizio Bosso, Randy Brecker, Mike Rosen, Eric Marienthal, Jerry Bergonzi, Tom Kennedy, Kenny Werner, Eddie Henderson, John Allred, Duffy Jackson, Gabriele Mirabassi, Alfonso Deidda, Franco D'Andrea, Roy Paci, Mike Supnick, Ada Rovatti, Rosario Giuliani, Enrico Intra, Tommaso Scannapieco, Achille Succi, Marco Tamburini, Eric Daniels, Italian Big Band, Francesca Tourè.He has been directed by the conductors Nicola Samale, Marco Frisina, Giuseppe Garbarino. He has played with the following orchestras: Savona Orchestra , La Spezia Orchestra, Italian-Rumenian Youth  Orchestra, Orchestra della Magna Grecia. He has performed in prestigious  festivals, such as Umbria jazz, Siena jazz, Casa del jazz, Villa Celimontana, Auditorium Parco della musica, Ascona Jazz Festival, Pomigliano Jazz Festival, Peperoncino Jazz Festival, Atina Jazz Festival, Vancouver, Lubiana.  
Recordings:
"The Concert" (1999) , as baritone saxophone with the. "Soranno Sax Quartet".
"Is Jazz Ensamble" (2005), as alto saxophone and arranger.
"Live in studio" (St. Louis jazz collection 2008) , as first tenor sax of the St. Louis Big Band.
"Da una partita all'altra" (Farelive 2010) , original music by M° Damiano D'Ambrosio for alto sax and  piano.
"Miriam" (Philology 2009),  his own first original recording, with  Fabrizio Bosso's participation.
"Just Groove" (Onix 2013) , with Mike Rosen as special guest.
"Nothing by Chance" , with Eric Marienthal e Tom Kennedy as special guests
"My favourite songs " Philology 2016
Publications:
"Il colosso del tenore" (Ed. Il Filo, Roma 2009), an essay about Sonny Rollins' life and music. 
"Tecniche per sassofono jazz" (Ed. ECO, Monza 2009), a method for  jazz saxophone.
"Il sassofono contemporaneo" (Ed. ECO, Monza 2009) , an essay about the  techniques used in the contemporary saxophone  repertoire .

Michael Rosen, born in 1963, in Ithaca, New York, has been living and working mainly in Europe, since graduating Magna Cum Laude from Berklee School of Music in 1987, where he studied with George Garzone, Bill Peirce and Gary Burton, among others, Following an Italian and Swiss tour in 1987 with keyboardist Delmar Brown, he settled in Italy, where he has been highly successful as both a live and studio musician, as a composer and as a jazz educator.
During his tenure on the Southern European music scene, Michael has played at numerous jazz festivals and has performed and/or recorded with, among others, Bobby Mcferrin, Jim Hall, Carl Anderson, Tommy Campbell, Peter Erskine, Roberta Gambarini, Marcello Pelletteri, George Garzone, Mike Stern and Kenny Wheeler, as well as with a swathe of important Italian and European artists, such as Stefano Bollani, Sarah Jane Morris, Enrico Rava, Paolo Fresu, Roberto Gatto, Danilo Rea, Franco D'Andrea, and Franco Ambrosetti, to name just a few. He has been guest jazz soloist at several performances with various musicians from the La Scala Orchestra, including 2 highly prestigious concerts in 2010 as one of five La Scala Soloists headlining as Bobby McFerrin's group.
As a studio musician, Michael has recorded solos on approximately 100 albums/cd's of every conceivable genre and for a vast array of Italy's most revered singers, including Mina, Adriano Celentano and Renato Zero. He shares album credits with such musicians as Bob Mintzer, Steve Ferrone, Oscar Cartaya and Bo Diddley. In addition, his saxophone solos were featured on the soundtrack for the ISO dance group's 1991 performances in Tokyo and at the Rockafeller Center in New York City, written by famed Italian composer Ludovico Einaudi.
The compositions from Michael's 6 cd's as leader have been featured numerous times on National Italian Radio Rai3, which has hosted him on many occasions for live performances with his group. His music has also been included on the cd's accompanying Italy's two major jazz publications, "Musica Jazz", and "Jazz Magazine", both of which have published two-page interviews with Michael during recent years. As a leader, he has organized many tours and played numerous festivals and clubs with his own projects, including a 2002 tour with Brazilian musicians Duduka DaFonseca, Helio Alves, and Nilson Matta. More recently has been performing with Brasilian jazz sensations Nelson Faria and Nelson Veras, and with other jazz groups at festivals and clubs around Italy and Switzerland and in London, including the Villa Celimontana Jazz Festival in Rome with his brasilian band "Tricolor". Primetime National Italian teleivision channels RAI3 and RAI1 covered his 2005 concerts at the "Casa Del Jazz" in Rome, as well as a 2009 performance at the Blue Note in Milan.
2010 saw Michael in London and Rome, with Sarah Jane Morris and her English band, as well as in several jazz festivals with Tricolor. 2011 will be an incredibly busy year, with Michael releasing 3 different new cd's. With its first cd, Tricolor has invited numerous special guests, including Nelson Faria, Vana Gierig, Mark Lambert and others, while Michael's Electric Quartet's new cd, "Press Escape to Begin", features guest Randy Brecker on trumpet. A third new cd, with Vana Gierig on piano, will be recorded live during two performances at the "Casa Del Jazz" Auditorium in May. Later that month, Michael will leave Rome for 2 performances in Tel Aviv.

Bruno Montrone is a pianist, organ player and jazz composer. Born in Bari in 1987 , gets close to jazz at the age of 11 thanks to Davide Santorsola. In 2010 he gets the degree in jazz piano at the Music Academy N. Piccinni. He has studied with : Barry Harris, Davide Santorsola, Ehud Asherie, Bob Durham, Joey Calderazzo, Eddie Gomez, Deduca de Fonseca, Renato Chicco, Harold Danko, Stefan Karlsson, Billy Drummond, Antonio Zambrini, Dado Moroni, Gerald Clayton, Mike LeDonne, Helen Sung, Lee Konitz , Barend Middlehoff, Alessandro Minetto, Paul Benedettini, Alberto Malnati, Marc Abrams, Anne Ducros, Mario Raja. The latter chose him for the Orchestra of young talents at Palermo jazz festival in 2006 . He ashes played with: Alex Garnett, Willie Jones III, Andy Farber, Joy Garrison, Renato D'Aiello, Nicola Muresu, Adam Pache, Piero Odorici, Max Ionata, Gasper Bertoncelj, Tim Thornton, Enzo Zirilli, Marco Panascia, Giovanni Amato, Fabrizio Bosso, Gianni Basso, Enrico Rava, Angelo Adamo, Bepi D'Amato, Michele Hendriks, Shane Forbes, Barend Middlehoff, Anne Ducros, Mark Fletcher, Mick Hutton, Andy Cleyndert, Quentin Collins, Rossano Emili, Bob Durham and many others . Since 2007 he has been teaching jazz piano at the prestigious music school "Il pentagramma" in Bari. Since 2010 he has been accompanist together with Renato Chicco from Spoleto Vocal Jazz Workshop led by Michele Hendriks. Since 2010 he has been part of Renato D'Aiello's quartet playing at Ronnie Scott in London every Monday. From 2012 to 2014 he lived in London where he had the opportunity to play with the best English jazz musicians in the main jazz clubs and festivals in the UK.

Francesco Puglisi is one of the most active double bass players in the Italian jazz scene and not only. He has played with Maurizio Giammarco,Enrico Pieranunzi,Massimo Urbani,Enrico Rava,Roberto Gatto,Rita Marcotulli,Stefano Di Battista ,Rosario Giuliani,Stefano Sabatini,Dado Moroni,Gianni Basso,Dino Piana Oscar Valdambrini,Franco D'Andrea,Xavier Girotto,Danilo Rea,Tullio De Piscopo ,Flavio Boltro,Fabrizio Bosso among the Italian musicians, but also with great international musicians. Among them, Chet Baker,Kenny Clark,Gary Bartz,Sonny Fortune,Bob MintzerLee Konitz,Benny Golson,Bob Sheppar, Steve Grossman.

Born in Australia, Adam Pache is one of the most accomplished young jazz drummers on the international scene, known for his feel, depth of musicality and his warm sound on the instruments. Having spent several years studying , performing and recording in NY, Adam is currently based in Rome , maintaining a busy schedule of concerts , recordings and masterclassee through Europe. Most recently he has toured as a member of the quartet with the grammy award winning singer Diane Schuur, in trio with the highly acclaimed American pianist Eric Reed and as a part of various projects led by Italian jazz greats Emanuele Cisi and Piero Odorici. Through his career Adam has also performed with jazz legends such as Clark Terry, Lee Konitz , Steve Swallow , Carla Bley, Valery Ponomarev , Junior Mance , Dusko Gojkovich , Scott Hamilton and Paul Jeffrey, as well as more recent stars of the music , including Seamus Blake , Jeremy Pelt , Roberta Gambarini, Joe Cohn, Terrel Stafford, Jesse Davis, Will Vinson, Danny Grisset, Joe Magnarelli, Barbara Dennerlein, Philip Harper, Bruce Forman, Ben Wolfe, John Webber, Joel Holmes, Tony Monaco and Scott Robinson among many others.
Innfinity 4tet feat. Alex Cech & Herwig Gradischnig (A)
So. 17.03.2019, 10:00-13:00 Uhr - Jazzbrunch im Hotel Mader, Stadtplatz 36, A-4400 Steyr

Herwig Gradischnig (A) - tenor sax
Franz Fakitsch (A) - guitar
Philip Zarfl (A) - bass
Alex Cech (A) - drums Mit seiner Band verbindet der aus Ried im Innkreis stammende Jazz-Drummer Alex Cech die Tradition mit der Moderne. Durch unzählige Blue Note Aufnahmen der großen Meister geprägt und inspiriert, formte Alex Cech zusammen mit Franz Fakitsch und Philipp Zarfl sein "Inn-finity Trio", welches die Basis und History des Jazz mit moderner Spielweise verbindet und zu Einem verschmelzen lässt.
Als Special Guest darf man sich dieses Mal auf einen der besten Saxophonisten Europas freuen, Mr. Herwig Gradischnig.
Bekannt durch seine langjährige Zusammenarbeit mit dem Vienna Art Orchester sowie Jimmy Cobb,John Swana, Karl Ratzer, Fritz Pauer, Rob Bargad und vielen mehr, sieht man diesen großartigen Musiker dieses Mal mit der jungen Generation an wahrhaftigen Jazz Musikern!
Zur Ekstase treibender Swing, fesselnde Melodien und eine raffinierte Interaktion umschreiben den gemeinsamen Sound dieser Musiker am Besten. Die aufgeführte Musik besteht aus Eigenkompositionen der Bandmitglieder sowie von Herwig Gradischnig.
Festivalpreise
| | |
| --- | --- |
| Donnerstag: | VVK EUR 25,00 - AK EUR 28,00 |
| Freitag: | VVK EUR 25,00 - AK EUR 28,00 |
| Samstag: | VVK EUR 25,00 - AK EUR 28,00 |
| Sonntag: | VVK EUR 10,00 - TK EUR 10,00 |
| | |
| 4-Tagespass: | VVK EUR 60,00 - AK EUR 70,00 |
| | |
Ermäßigung für Schüler und Studenten: 50 %
Ermäßigungen für AK Mitglieder (pro Karte/Pass): EUR 2,00 im Vorverkauf / EUR 3,00 an der Abendkassa / EUR 10,00 auf den 4 Tagespass / EUR 2,00 für Jazzbrunch
Kartenvorverkauf: in allen OETICKET Stellen sowie unter +43 (0)664 / 4158010 bzw. sounddesign@aon.at
Lageplan Altes Theater, A-4400 Steyr
Handel Mazzetti Promenade 5, A-4400 Steyr


Größere Kartenansicht
Archiv, die vergangenen Jahre
Jazz Festival Steyr 2018
Jazz Festival Steyr 2017
Jazz Festival Steyr 2016
Jazz Festival Steyr 2015
Jazz Festival Steyr 2014
Jazz Festival Steyr 2013
Jazz Festival Steyr 2012
Jazz Festival Steyr 2011
Jazz Festival Steyr 2010
Jazz Festival Steyr 2009
Jazz Festival Steyr 2008
Jazz Festival Steyr 2007